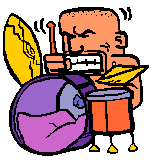 Da Drum Page
Good God, give the drummer some...


Welcome to my drum page...
... where I tell a little something about my equipment and my musical influences.




Some history first
I started playing drums at the tender age of sixteen. It all started when a guitar playing friend of mine told me he needed a drummer for his band. Because I had been fiddling around with drumsticks [no drums!] for years, I bluffed myself into his band.
I managed to stay with this miraculously unsuccessful ensemble for a few years and saved up enough money to buy my first set of red (!) drums. I believe the brandname was Cerlino. They looked like a cheap imitation of Pearl drums and sounded rather average, at best. They did get me interested in trying out different kinds of drum heads (or skins). This taught me how to tune my drums properly.
I soon ended up recording demoes in a studio run by another friend. This made me even more aware of the importance of well tuned and good sounding drums.

Getting more serious about stuff
So, after a few years of playing on the red Cerlino kit, I moved on to Pearl drums. The real deal, this time. It was a black BLX series set and seemed to grow and grow... and grow some more. I think at its largest it had: 8" / 10" / 12" / 13" / 14" Toms, a 16" Floortom, a 22" Bassdrum and 2 Snaredrums.
The shells were made of birch and they sounded very nice indeed. It never let me down, but as with everything sometimes it is time for a change.

So, for the next 25 years my set of drums was a 6 piece Pearl Masters Custom, mounted on a Pearl Icon rack system:
8" / 10" / 12" / 15" Toms and a 22" Bassdrum.
The colour was a pretty transparent green, 'Emerald Mist' as Pearl called it. The shells were full maple and rather thin, giving them a nice and round sound.
The toms were suspended in PureCussion Rims. A great looking and sounding kit.

The big change...
After much research and seeing my favourite drummers playing Drum Workshop drums, in 2018 I finally pulled the trigger and ordered a new set of drums. The new kit is a Drum Workshop Collector's Series 5 piece shell kit, in a beautiful Cherry Red oil finish:
10" TomTom / 12" TomTom / 14" Floor Tom / 16" Floor Tom and 22" Bass Drum.
What is amazing about DW is that you can specify how you want your drums built, to the smallest detail. I had very specific ideas about the size of the toms and DW pulled it off flawlessly. More info is on my set up page, if you're interested.
My snare drums have changed over the years. Currently I have 3 snare drums:
- a Ludwig Black Beauty 14" x 5" brass shell
- a Ludwig Bronze Black Beauty 14"x 6.5" bronze shell
- a Pearl Free Floating 14" x 6.5" copper shell
I have even dedicated a page to them... Really. Trust me. So if you want to have a closer look at them, click here.

The hardware (cymbal stands, snare drum stand, single bass drum pedal and HiHat stand) is by Pearl, with the exception of the Tom holders, the double bass drum pedal and the throne. The Tom holders and double bass drum pedal are made by Drum Workshop. My trusted throne is a Tama.
I also own a 1980's classic (or vintage, rather) Premier 252 mII single bass drum pedal. It is a refurbished version of a pedal I used to own (and then sold) when I first started to take drumming seriously. I keep it for nostalgic reasons, rather than for actual gigging. It's an amazing piece of hardware and one of the smoothest pedals ever built, in my opinion.


My cymbals are all Zildjian, from various series:
- 14" Avedis Mastersound Hi-Hats
- 15" K Custom Hybrid Crash
- 16" A Custom Rezo Crash
- 17" A Custom Medium Crash
- 19" K China Boy
- 20" K Heavy Ride
- 8" K Splash
- 10" Avedis EFX #1

I play Zildjian because they have a great, natural sound and have a lovely low end to them. I have never warmed up to very clean sounding cymbals. Ziljian has the right amount of edge and clarity for me. It's a matter of taste. It always is, right? Right. I like the combination of the brighter A Custom crashes with some darker sounds from the K series. It gives me all the options I need.
I also have a 13" K/Z Hi-Hat set, that I currently mainly use for acoustic gigs or recording. My Avedis Mastersound HiHats are with me on live gigs, as I love how 'wet' they sound when played loud and the added volume they bring.

And as with everything, there is one notable exception to my 'Zildjian only' cymbal range:
- 10" Zultan RAW Splash

For full details on my setup, click here.

So what kind of drummer am I?
Rather hard to answer, that one. Let's see. First off, I'm mainly self taught. I have had some useful lessons from a very talented guy named Henry Jansen years ago, though. Never hurts to have a teacher helping you out with things. I had lots of help from Henry becoming aware of different playing techniques on the kit.

I play mainly matched grip, but do switch to traditional occasionally.

As far as inspiration goes, I think I've borrowed a little from all the drummers I more or less admire. I say borrowed, because I try to give some of it back each time I play. So hats off to these guys:
- Ian Paice (Deep Purple)
- Terry Bozzio (Frank Zappa)
- Marco Minnemann (The Aristocrats and many others)
- Vinnie Colaiuta (Frank Zappa, Sting and many others)
- Ian Mosley (Marillion)
- Simon Phillips (Toto and many others)
- Carl Palmer (Emerson Lake & Palmer)
- Roger Taylor (Queen)
- Virgil Donati (Planet X, among many other things)
- Cozy Powell (Rainbow)

Some advice
A good sounding drum has life in it. Dead drums are for disco and I don't do disco. Period.
Seriously: no matter what a sound engineer tells you: a drum should sound, well, like a drum. Sustain is a good thing, it is the sound of wood vibrating after hitting a drumhead. That's how drums work, geddit? Be kind to it, don't kill it with tape. Learn to control it, by tuning your drums accordingly. So, if your drums are tuned well, they should sound full bodied and balanced.
If a sound engineer offers you his roll of Gaffa tape to kill your sound, you have only 2 serious options:
1- adjust the tuning of your drums so they fit the acoustics of the venue, or
2- ask the sound engineer to stand behind you when you play the drums, so he can hear what your drums sound like from where you are sitting. That is the sound you want other people to hear. It is his job to carry that sound through the P.A. system.
Don't use his Gaffa tape. There should be no need.

But most of all: develop yourself as a player. Practice is key. Don't be afraid to learn new things.

Listen to other drummers for inspiration, but don't blatantly copy them. Understand what they do, where they do it and (most difficult of all) why they do it.

Funny quote from Freddy Gruber I read recently: "The only bad technique is one that might actually injure the drummer". How true indeed!

And the best advice i can give you:
Have fun!
---